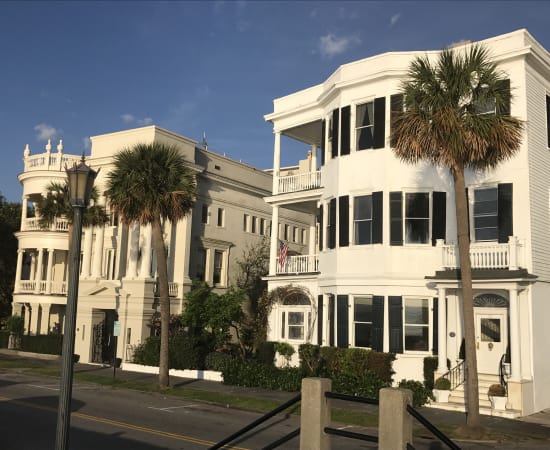 CLOSED!
Welcome to Zero Water Street!
As of October 2020 we are officially closing the rental unit. Thanks to everyone for their patronage. It was fun while it lasted! Please do not attempt to make a reservation while we close down the operations...
Step back in time as you experience Charleston from your completely private 1400 square foot, waterfront penthouse suite atop one of Charleston's exclusive High Battery Mansions. Soaring twelve foot ceilings and sweeping panoramic views of Charleston Harbor await as you enter your 180 year old accommodations!
This stately ante-bellum mansion (c. 1837) is one of twelve historic homes perched upon Charleston's famous "High Battery". As a guest, you enjoy the entire third floor suite of this prestigious "South of Broad" home which also features a private entrance, full kitchen, off street parking and your own huge piazza that extends the entire length of the home!
Leave your car and troubles behind as you are located in the epicenter of the old city historic district and mere steps away from nearby historic sites, incredible architecture and magnificent parks. Get out and explore the city or just relax and watch the world go by from the best porch in Charleston!
The home has been in the current family since 1903 and is currently occupied by fourth and fifth generation descendants of Henry Porter Williams.
Come enjoy Charleston from the front row!
Quotes from guests:
"The spacious accommodations, location, cool breezes on the sun-drenched piazza and traditional southern hospitality combined to make memories that will linger with us for months and years to come. Thank you for preserving the past for us to enjoy today!"
"This was a marvelous place to stay. I couldn't imagine a more perfect place in Charleston!"
"We thank you for your exemplary hospitality. Certain memories and images will linger for a long time-probably until we return."
"We have stayed at many private rentals all over the country. Zero Water Street is the best by far!! Thank you so much for your hospitality and your excellent advice about restaurants and tours. We enjoyed our relaxing stay and hope to return someday soon."
Learn More